Posted on December 31, 2010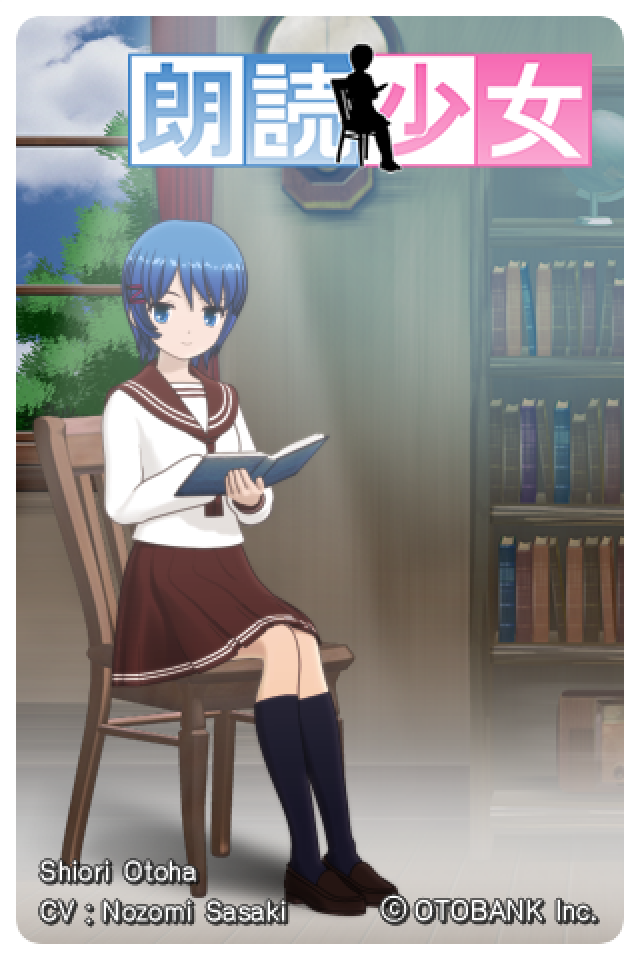 Rodoku Shojo - Story Time Girl
(currently Free at the App Store)
Okay. This is hands down my favorite free audio e-book app out there. ...in Japanese. Meet Shiori Otoha; 17 year old high school girl who will read for you. You will first get several pages of Rashomon with the free app, but interaction with her is fully realized.
YES! I said interaction! She reacts to your touch, albeit not in the way you're thinking of right now- she's not so responsive to touch since touching her is not the focus of this app. She'll talk about what she likes, what she is thinking, and all that good stuff in a very calming yet shy voice. Her reading voice is excellent. You don't hear any annoying microphone crackling or breathing like with other poorly recorded audio book apps.
When you start the app, she'll say hello according to the time of day, in her cute little animation. Sometimes she'll tell you what she's been thinking. She's not annoying like most anime girls, and that's super great.
Once you've fallen for Shiori, there's only one thing to do... buy books. They're cataloged in an easy-to-read list. For some reason the price is all listed as ¥, but still charges in US dollars. The list of their collection is pretty enticing though not extensive. But what's even more enticing is, I think, the books in their catalog are Shiori's favorites, like Kenji Miyazawa's writings and other classics. She'll even say that she wanted to read a certain book from the list and will ask if it's a possibility- then the purchase window pops up. I almost fell for it. I almost bought something without knowing what I was getting. This is a dangerous app.
Pricing is reasonable too. Some of the longer books are divided into multiple volumes, most of them priced between ¢99-$2.99. Considering the quality, I think this is totally fair. The app also offers items for Shiori for $3.99/item, which I haven't tried yet. Not only are they a bit pricy, I'm almost afraid to get them.
This is a very intimate kind of marketing. She interacts with you and builds a kind of relationship. When she reads, the animation is set so that she will gently turn pages, occasionally look up at you while reading as if to make eye contact. I know this sounds silly, but that's what hit the nail on the coffin for me. It wasn't the slight sway of her skirt when she walked. It wasn't her calming voice. It wasn't even her adorable blushing when she talked about her dreams. It was that eye contact, as strange as it sounds, that made her oddly human.